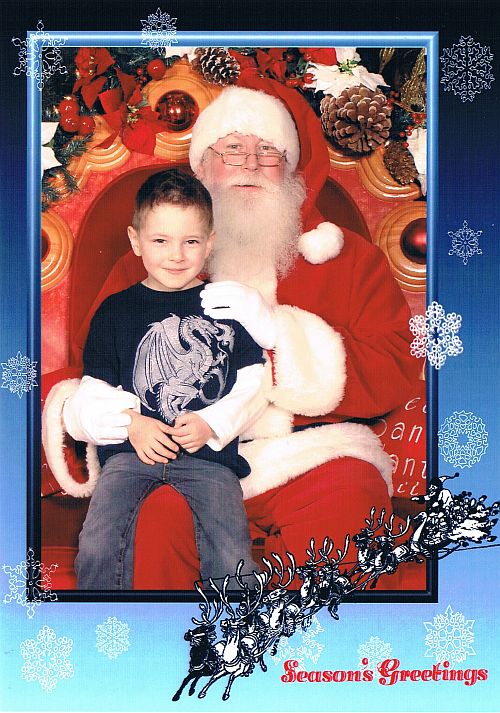 Each year, I take my son to Santaland so he can experience the magic of Santa  and so I can get a photo to put in my family scrapbook and to share with the grandmas, grandpas and other special people in our lives.
This year, we headed to the mall one day for a haircut at Sparky's Kutz for Kids because the dude was having a very bad hair day – it was just way too long. Then I surprised my son, telling him that we were about to see a special visitor at the mall. He was thrilled to see Santaland and was pretty good about waiting in the short weekday lineup. I got a bit worried when he said he had to pee just when we were getting up to the gate but at age 4 he was able to hold it so we didn't have to give up our place in line. In we went, and my shy guy proceeded to hide from Santa by sticking his head underneath my jacket, and then laid down on the floor in a ball with his hands over his eyes. I'm sure that photographer sees a lot of  cute, funny and bizarre things, but she said she had never seen that before!
Santa suggested that maybe I would have to pose in the picture with the dude, but it couldn't have been a worse day since I had left the house in a hurry to get to his music class earlier that day wearing yoga pants and a turtleneck – I was not looking my best. Fortunately, my shy guy behaved when I picked him up and plopped him on Santa's knee. He smiled for the camera but didn't manage to articulate many words. I answered Santa to let him know what's on the Christmas list this year – Lego. We left with a candy cane in hand.
Then it was up to the register to receive our photos from a brightly dressed elf and to pay. This year, I had purchased a Groupon to get $20 of pictures for $10 so all I had to do was show my voucher on my iPhone. I picked the package with two 5 x 7 photos which I then scanned to my computer when I got home.
I plan to order extra prints online at Costco.ca – 5 x 7's are currently on sale (until Dec 2, 2012) for 18 cents each or I can get 4 x 6's for $0.16 each. If you are in the States, be sure to check costco.com for pricing – it's probably cheaper.
The secret to scanning your Santa photos is to order the biggest size of picture you would like to print out. If you want to have a 5 x 7, you need to order a 5 x 7 from Santaland and then you can scan it and make smaller prints as well. If you try to make an 8 x 10 from a smaller sized scan, the quality will suck.
If you got in on the Groupon deal, all the better. If you missed it, you will still save this way on making extra prints. Or another money saver is to post your scanned photo online on social media (as long as you are comfortable with the privacy settings) and not worry about the cost of prints at all.
Be sure to use this tip when you are buying school and preschool pictures as well. It is tough to turn down a photo of your beautiful child because of money and this way, you can still enjoy getting a photo of an important milestone in their lives and feel like it didn't break the bank, especially during the holidays.
<