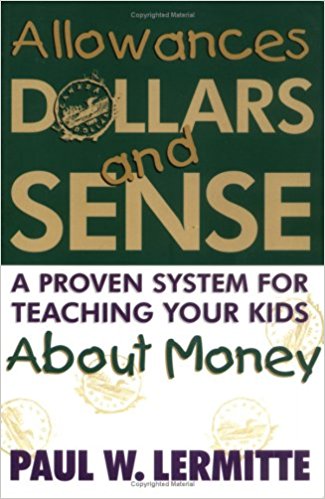 When our son turned five-years-old this summer, we knew it was time to start teaching him about money by starting an allowance – but where on earth would we start? Fortunately, a local financial planner Paul Lermitte, has published a book called Allowances, Dollars & Sense that helped us work through how to get an allowance system set up.
Lermitte believes that children should receive an allowance for being part of the family with the goal of teaching them financial responsibility from a young age. Once they turn five or six, it is time.
Here are 10 easy steps we learned from Allowances, Dollars & Sense that will help you with setting up an allowance system for your child:
Decide on a specific amount for the allowance. Choose an amount that your child will receive weekly. Paul Lermitte suggests an amount that is half of the child's age – for example $2.50 for a five-year-old or $5 for a 10 year old.
Decide the day of the week to give the allowance, preferably Sunday or Monday and be consistent.
Decide on the savings amount. Adults are encouraged to save 10% of their income. Have your children start saving at least 25% of their allowance to establish the habit of saving at a higher level. Saving 10% will seem easy when they grow up!
Talk to your child about an allowance contract, an agreement between you and your child which lays out all the details of the allowance and the kind of purchases that are appropriate for spending money and for savings.
Write up and sign the allowance contract.
Give the allowance  to your child in coins each week so they will learn about handling cash
Have your child put the savings portion in their piggy bank immediately after they receive it
Have your child put the rest of the allowance that they are allowed to use for spending money in their wallet
Open a bank account for your child. At the end of each month, visit the bank to deposit their savings from the piggy bank.
Be sure to keep track of when you paid the allowance so you don't get behind. An option is to use this allowance tracker. We are just marking it down on our family calendar each week. Use a system that works for you.
After reading the book, the first thing we did was take our son to the dollar store to pick out a wallet; this was a huge thrill for him! We have started out giving our son $3 per week – $2 for spending and $1 for savings. And it is going well so far. He likes getting an allowance and I think he feels empowered by it. He hasn't actually spent much so far but has enjoyed making a couple of small purchases. He is saving up for a special Lego set.  As I posted earlier this week, we have now set up a bank account for him – click for more on How to set up a savings account for your child.
When our son gets older, we will teach him some of the more complex concepts in the book including goal setting, investing, giving, debit and credit, and so on. Lermitte does a great job of explaining all these topics in the book and I highly recommend it.
As an adult, I think the worst thing we can do is pass on any bad habits or attitudes we have about money to our children.  I am delighted to be starting to teach my son positive values about money at such a young age.
Paul W. Lermitte is a certified financial planner and family business specialist. Paul developed this simple, practical system to teach his own three young sons about money management. He lives with his wife in the Vancouver area where he specializes in caring for clients with family businesses. For more information about the book, visit www.paullermitte.com.
Disclosure: I received a complimentary copy of the book simply because I am a client of Paul's and I have chosen to write about it because it is fantastic. I have not received any compensation for this review – all opinions are honest and my own.
<