We have recently joined the Kidsworld program for families for the second year and are looking forward to some big fun this summer and throughout the year. 
Last year, we had some great family experiences with Kidsworld. We visited and explored Rogers Arena, the Museum of Anthropology, Bear Creek Park, the Lynden Museum, and the Vancouver Police Museum. These were all places we hadn't otherwise thought of going to or would feel budget conscious about spending the money for admission without the Kidsworld pass. It was awesome to explore these new places and we thoroughly enjoyed ourselves!
This year we kicked off our Kidsworld adventure with a dance class at Bugaloo Dance where the dude learned Hip Hop and Breakdance from professional instructors. It was pretty cool!
Kidsworld Summer
Each $50 (plus GST) Kidsworld Summer pass includes one child and one adult admission to the activities on the Kidsworld calendar for that day. Plus there are bonus discounts available for Playland, Keats Camp, Anvil Island, the PNE and the Abbotsford Airshow.
Reservations
Some Kidsworld calendar events require reservations. This is when it helps to join the program early in the registration period so you can sign up for reservation events before they fill up.
Calendar
For each month, there is a calendar of events from Kidsworld that members are eligible to attend. For example, this is the July 2016 calendar: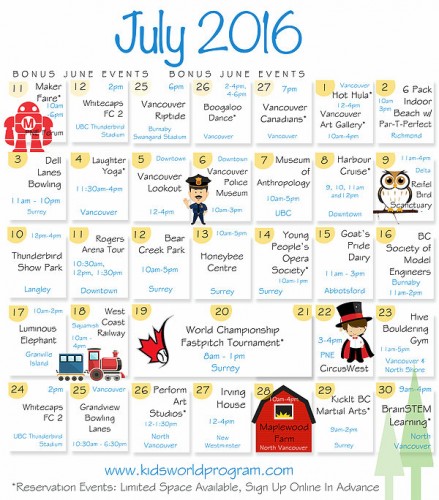 Kidsworld 44
Kidsworld 44 is a new program starting in September which will provide a calendar of family activities through to June 2017. We can't wait to see what's on the calendar for the fall and winter! Cost: $50 plus GST.
More Info To learn more about Kidsworld and to sign up for some great family fun, visit their website at www.kidsworldprogram.com.
<