'Tis the season for gift giving, stocking stuffers, and for many, trying to decide what the book lover in your life would like to read over the holidays. Whether your loved one is wired on Kindle or likes to go old school with paperback and hardcover like I do, here are some great book choices for the holiday season.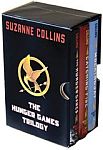 1. Hunger Games Trilogy by Suzanne Collins – The Hunger Games, Catching Fire, and Mockingjay books follow Katniss Everdeen as she takes her sister's place in a real world survivor game and ultimately become the symbol of a revolution.
2. The Secret Daughter by Shilpi Somaya Gowda – This is the January pick for my book club and comes highly recommended by the ladies who have read ahead. It's a story of two interconnected families, one who gives up a child in Mumbai, the other raising a child from another culture  in the United States.
3. The Secret Keeper by Kate Morton – I adore all Kate Morton's books and stayed up much too late reading A House at Riverton, The Forgotten Garden and the Distant Hours. In The Secret Keeper, a woman explores her mother's past to solve a 50-year-old crime. This one is on my must have list. Hint hint!
4. The Racketeer by John Grisham – A new book by the master of the courtroom drama John Grisham – you can't go wrong with this one. Former attorney Malcolm Bannister is in prison for a crime he did not commit. Now the feds need his help investigating a murder.
5. The Black Box by Michael Connelly – I've read a lot of crime fighting novels in my time and Harry Bosch is one of my favourite detectives. In The Black Box, Harry Bosch links a recent crime to the 1992 murder of a young female photographer during the LA Riots.
6. Deadlocked by Charlaine Harris – Sookie Stackhouse is a waitress and telepath who gets caught up in the supernatural world of vampires, werewolves and fairies. In the 12th book in the series, vampire Eric Northman is in all kinds of trouble sending Sookie on the trail of a murderer.
7. The Casual Vacancy by J.K. Rowlings – Who doesn't want to find out what the author of the Harry Potter series has come up with next? It's on the shelves people. The storyline? An empty seat on the Pagford town council leads to a heated election…
8. Poseidon's Arrow by Clive Cussler – My husband is addicted to these action packed Clive Cussler books.  NUMA (the underseas counterpart to NASA) director Dirk Pitt and his team investigate why ships are mysteriously disappearing at sea. Stocking stuffer – check!
9. V is for Vengeance by Sue Grafton – What will the world come to when Grafton completes her long running alphabet series of mystery and private detective mayhem? In V is for Vengeance, Kinsey Millhone investigates a professional shoplifting ring.
10. Broken Harbour by Tana French – Set in Ireland, Tana French's previous books In the Woods, The Likeness, and Faithful Place are delicious page turners. I'm looking forward to Broken Harbour as top detective Mick Kennedy is handed a case of murder that is more than it seems.
<