We love the beautiful trees, lakes, oceans and parks in the Tri-Cities, and my 8 year old has tried out many of the playgrounds at these special places over the years. We have our favourites, and today we are sharing our list of kid approved, best playgrounds in the Tri-Cities including Port Moody, Coquitlam, and Port Coquitlam.
Lions Park
2300 Lions Way, Port Coquitlam

The new playground at Lion's Park is set up to engage children of all ages and features a sandbox, climbing structures, swings, slide and zipline. It's a lovely spot for a picnic, play and a walk along theTraboulay PoCo Trail that runs alongside the Coquitlam River.
Belcarra Park
Belcarra
Belcarra Park has so much to offer: hike the forested trails, explore the rocky beach, go crabbing off the dock. Swimming draws crowds to Sasamat Lake in summer but we prefer to visit the park itself which features a playground and basketball hoops with an ocean view, a dock to explore, beachcombing and picnic tables which makes it a great place for a barbecue.
Town Centre Park
1299 Pinetree Way
Town Centre Park has a great little playground with slides, balance beams, swings, bridges, jungle gym, and lots of things to climb on. Dig in the sandpit. Spash around in the waterpark. Bring your bike or scooter for the bike park. Go for a walk around the lake or bring a ball to kick at the soccer fields. Don't forget to bring your fishing rod as the lake is stocked with trout!
Queenston Park
3415 Queenston Ave, Coquitlam
Queenston Park is a very small community park in Coquitlam. There's not much available for parking and you'll have to make due with a porta potty but kids just love the playground built on a hill. Bring your hockey sticks to play a little ball hockey while you're here and a blanket to sit on.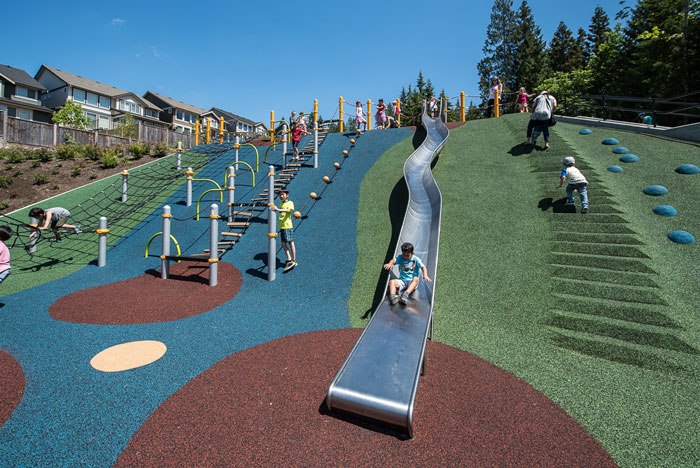 Como Lake Playground
700 Gatensbury St, Coquitlam, BC
A gorgeous new playground aimed at the younger set has been built at Como Lake Park. Bring a picnic. Take a walk around the lake. Drop a line in the water to catch a fish.
Blue Mountain Park
975 King Albert Ave, Coquitlam
Blue Mountain Park is one of our favourite places to go featuring a relatively new playground including a ropes course, swing, musical chimes, and a play structure with a roller slide which is probably best for the 5+ set. Other fun at the park includes a bike path great for your littles to practice riding their bike on, tennis courts, tot pool and water park.
Rochester Park
1390 Rochester Ave, Coquitlam
One of my readers came forward to share that Rochester Park in Coquitlam has a fabulous new playground. Check out this photo of the playground courtesy of Empowered by Nature. Doesn't it look fantastic! If you like the looks of this log based playground, a similar one has recently been built at Sapperton Park in New Westminster.
These are our favourites in terms of the best playgrounds in the Tri-cities! What are yours? Share in the comments so I can update anything that is missing!
<